Finally, A Solution for Uncontrollable Flatulence
This is a subject that really hits close to home within the Just the Tip family. Hardly a gig goes by without someone stinking up the van or clearing out the entire left side of the stage. Todd, I'm looking in your direction. Well, now that's all behind us thanks to the good people over at Under-Ease, makers of the world's first anti-flatulence underpants.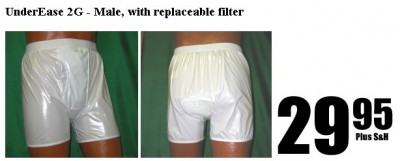 You've gotta wonder how bad a person's gas must be in order for them to invent air-tight undies. God willing, none of us will ever have to find out.
Thanks to Jumbo for pointing out these undies and providing such a ringing endorsement. Be sure to check out the site's testimonials page.