Mad Dog Gets Married, Band Lights Things on Fire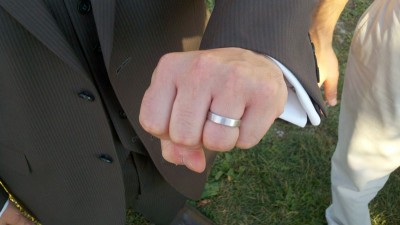 We took a little road trip to Chicago last month to celebrate the nuptials of our dear, dear friend Mad Dog to his longtime love Claire, aka "The Most Patient Woman on the Planet." We drank beers out of mason jars. We lit these mini hot-air balloons on fire and watched them float away to disrupt flight traffic or start forest fires somewhere in rural Illinois. Delange spanked the planks out on the dance floor. And we yelled at little kids to stop putting so many damn logs into the bonfire. Okay, I yelled at those kids.
Congrats MD & Claire!!!