Post Texas Arizona Turns Violent, Cheese Steak Mortally Wounded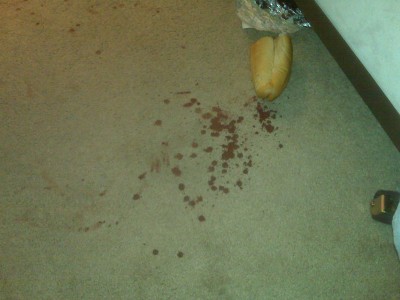 As though any of us needed another reason not to eat a cheese steak in bed, my roommate woke up the morning after our Texas Arizona show covered in blood and smashed Philly steak leftovers. The word "surreal" doesn't even begin to describe this scene, of which I was alerted via a text message from the adjoining room reading "Get in here. It looks like I murdered a small animal and ate a cheese steak."
Having no visible cuts anywhere on his body, he and I were dumbfounded as to how this could have possibly happened. Luckily, I've watched enough Dexter and CSI:Miami to be able to analyze the evidence in this case. Here's two possible ways that it could have went down: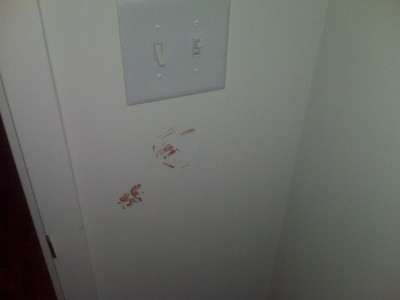 Scenario #1: Cheese Steak is delivered. Roommate welcomes in Cheese Steak, offers it something to drink, says nice things to it. Roommate lures Cheese Steak back to his room and makes advances toward Cheese Steak. Cheese Steak realizes that it's not that type of late-night food and resists. A struggle ensues. Roommate overpowers Cheese Steak, rips it in half, eats part of it and smothers the rest.
Scenario #2: Roommate encounters Cheese Steak on his way home. Cheese Steak looks lonely and delicious. Roommate is seduced by Cheese Steak and they go home together. Cheese Steak drugs roommate so it can rob our place, but Cheese Steak critically underestimates roommate's sedative threshold. Roommate fights back, overwhelms and ultimately devours Cheese Steak.
The real key to this case is determining the victim: my roommate or the Cheese Steak. Yes, I am using Cheese Steak as a proper noun. Crime scene photos are below. What do you think happened?