The Van Gets Hit. Again.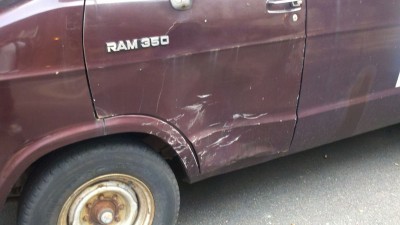 Seriously, who the FUCK keeps hitting our van? This is getting out of control. It's an 8500 lb purple van… how the hell do you not notice that thing when you're backing up? Not to mention I consistently park it in the filthiest, most AIDS-infested area of Hoboken to keep it out of everyone's way. In case you don't remember, the van was also hit back in May 2010.
Sadly, these routine beatings, coupled with the residual effects of an unspecified engine fire several years back, have the infamous Just the Tip Van hanging on by a thread. Her days are most certainly numbered, and we anticipate she will be going to the bone yard by month's end. A sad, sad day indeed. Chad thinks we should send her off in style with some type of event. I think we should just light it on fire like in Superbad:
What do you think?
More pics of the hit below: