Calling Other People 'Douche' is Fun Until…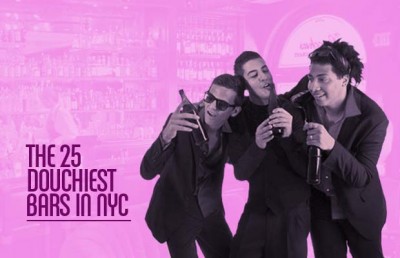 Complex Magazine recently posted a hilarious rundown of the 25 Douchiest Bars in NYC. For those of you who don't live in the area, there are swarms of douches inundating Manhattan, and pretty much the only saving grace is the ability to point out some cheesedick at a bar and say "Look at that douche." Thus, I was thoroughly enjoying this article and the hilarity of other people being labeled douches, until I realized the following:
#25 – MacFadden's – Eric watches the Bills here every Sunday
#21 – Coyote Ugly – We almost booked a gig here circa 2007
#20 – Brother Jimmy's – We used to get beers here before practice until their barbeque gave Eric Crohn's Disease
#12 – Mean Fiddler – Almost booked a gig here circa 2006
#8 – Turtle Bay – Played a gig here March 2009
#4 – Wicked Willy's – Played two shows here in 2008
Now I am officially offended. Thanks to Jumbo for the link.