Acoustic @ Gaslight This Saturday, Support the Hoboken Shelter!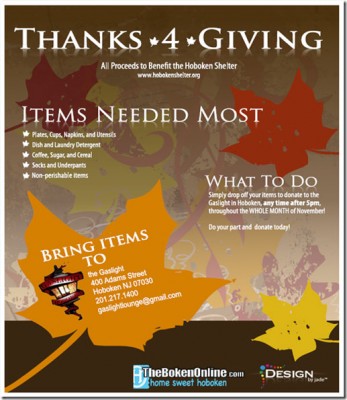 Roll on out to The Gaslight in Hoboken this Saturday night for JTT Acoustic and a Thanks-4-Giving food/clothing drive. All donated items will benefit The Hoboken Shelter, in my opinion the best God damn shelter in town. They're asking for non-perishable foods, plates, cups, utensils, socks, undies and some other things that you probably already read on the poster.
This pretty much sums up the TIP at its core: We'll be sitting in the corner playing music and smashing beers while other people do nice things for humanity. And then we'll ever-so-slyly piggyback onto their efforts. Well, I feel pretty good about myself, how 'bout you, Eric?
Show Details:
Gaslight Hoboken
400 Adams Street
Hoboken, NJ 07030-2676
(201) 217-1400
Saturday, November 20th, 2010, 10pm to 1am
Drink Specials:
$3 Coors Light & Yuengling
$5 Stoli Cocktails
$6 Energy Cocktails