Get Psyched for 90's Night at The Gramercy Theatre, This Friday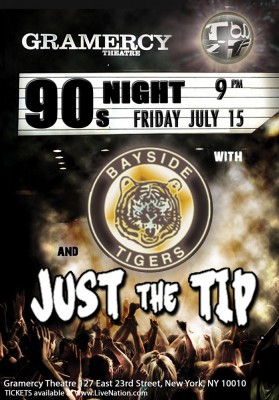 Man, when I think of the 90's there's a flood of memories that come rushing back. The super crappy cars. Grunge music. The time my Dad caught me whacking it to Roseanne.
Well fear not good people, because 2/3 of those things I just mentioned are about to come back in a big way this Friday night. Our good buddies The Bayside Tigers somehow locked down a gig at the fabulous Gramercy Theatre and they've asked us to join in on the fun. It's an entire night of 90's covers that'll rival any of your best mix tapes from back in the day.
Tickets are available at Live Nation, or you can just get them at the door. The show starts up at 9pm and this party will be rocking till about 1am. Bring some of that long-forgotten teen angst, and maybe even 1 or 2 crucially inopportune boners, and get ready to throw it all the way back to the 90's with Just the Tip and The Bayside Tigers.
We're super amped up for this show and can't wait to see everyone there. ROCK!
JTT
Show Details:
The Gramercy Theatre
127 East 23rd Street
New York, NY 10010
Friday, July 15th, 2011 @ 9pm