JTT Acoustic at Gaslight Hoboken, Thurs Aug 5th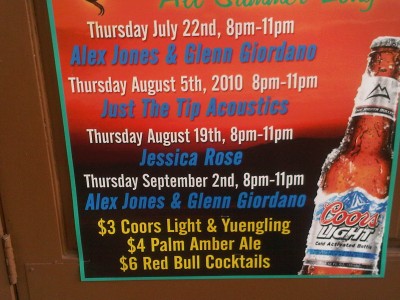 Join us for a Thursday night acoustic performance with Eric and Chris on August 5th (today, as of this writing) at the Gaslight in Hoboken. They've got good eats and drink specials running all night. The Gaslight is a very underrated bar located on 4th and Adams. We've had some great times at the GL, including an infamous event a few years back where our own Uncle Jaan, aka the TIP's Chief of Security, got into a dance-off in the back room. To this day North Jersey still has not recovered.
Check out this mention in the 'Boken Online.
Show Details:
Gaslight Hoboken
400 Adams Street
Hoboken, NJ 07030-2676
(201) 217-1400
Thursday, August 5th, 2010, 8-11pm