Thursday Night Rocks at Soiree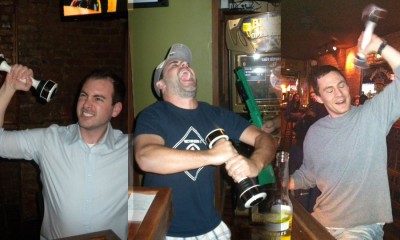 Yes, that is us playing with a Shake Weight. I can't say I'm thrilled that those pictures surfaced but all I can do now is embrace it. Someday, one of our illegitimate children will see these images and his/her life will be irrevocably damaged.
Speaking of which, anyone want to party with the TIP on Thursday night? Our monthly Soiree gig is starting to gain some momentum and we're psyched for another great Happy Hour. Grab a few of your coworkers and then brace for that awkward moment where you have to tell them the name of the band you're taking them to be see.
Doors open at 7:30pm and show starts at 8pm. See you then!!
Show Details:
Soiree (formerly BLVD)
199 Bowery St (@ Spring St)
New York, NY
Thursday, March 10th, 2011 @ 8pm (doors 7:30pm)