Todd's Last Show – This Friday at Texas Arizona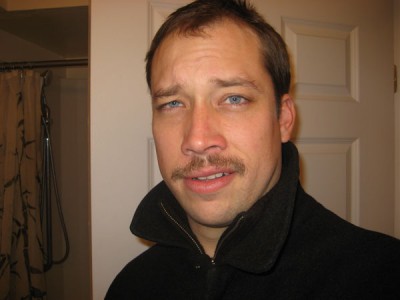 Well, I'm sure by now you've all heard the news – longtime Just the Tip bassist and all-around degenerate Todd Matteson is moving to London at the end of this month. That's right – the same guy who used to play gigs wearing a Vince Carter sweatband and cowboy boots will now be living in England. I get the feeling he'll blend right in.
Obviously, this is a sad, sad day for Just the Tip. Todd has always been our musical director of sorts; a rhythmic stalwart who earned our respect being the only guy in the band who could consistently remember the chords to Hurts So Good. Is the middle part D – F# – D? I still have no idea. Todd, are you giving me the stink eye right now?
If there is joy to be had from sadness, it's that we get one final blowout show with Todd, this Friday night at Texas Arizona in Hoboken. Come on out to say your goodbyes and enjoy the sounds of a truly talented bassist one final time. We haven't decided where the TIP will go from here, but this will most likely be the last bar gig for the foreseeable future. Hope to see everyone this Friday night!
Show Details:
Texas Arizona
76 River St
Hoboken, NJ 07030
Friday, December 9th, 2011 @ 10pm
For those feeling a bit nostalgic, here's some posts from our Todd archive:
And let's not forget about this classic picture: