Wicked Wolf This Friday Night, Hoboken!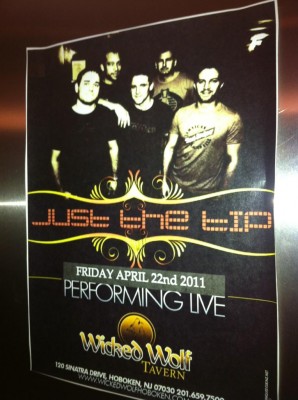 This poster is apparently hanging on the inside of a stall door in the ladies' room at the Wicked Wolf. It's good to know that we're able to creep out Hoboken girls while they pee even when we can't be there to do it in person. Stage fright anyone? But enough about that – how about Just the Tip this Friday night at the Wicked Wolf! This is our last show with Foster before he heads off to be a doctor. Biggest mistake of his life. We will be starting up right at 10pm so get there a little early because the place gets packed. See you then!
Show Details:
Wicked Wolf Hoboken
120 Sinatra Drive
Hoboken, NJ
Friday, April 22nd, 2010
10pm to 2am
Thanks to Rhe for sending over this pic.