Underrated Movie of the Week – Striking Distance (1993)
I'll walk you through a typical band conversation and you'll see why we always want to kill each other.
Fightmaster: Hey what's the name of that movie with Bruce Willis where he's the boat cop?
Eric: Striking Distance
Fightmaster: Yea, you know the one where he's living on that boat with the chick from Sex in the City?
Eric: It's Striking Distance
Fightmaster: And it's in Pittsburgh and he's a down-and-out boat cop?
Eric: Yea, Striking Distance.
Which brings me to this week's Bad Action, er, "Underrated" Movie. Dig this air-tight premise from Striking Distance: A demoted Pittsburgh cop (Bruce Willis) hunts down the serial killer who murdered his father, all the while on a River Rescue Boat. Awesome. In the end Bruce does things his way, blows some stuff up, saves the day and nails Sarah Jessica Parker. That's better than anything I did today.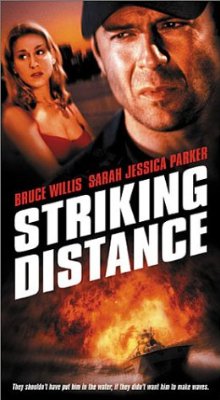 They shouldn't have put him in the water, if they didn't want him to make waves.